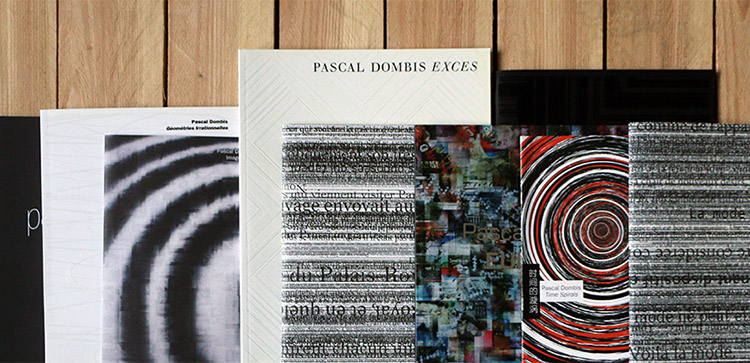 Pascal Dombis is a visual artist who explores such fields as language, noise, control, and irrationality. He creates unstable and dynamic visual environments and artworks, notable for the excess, repetition and unpredictability of technological processes.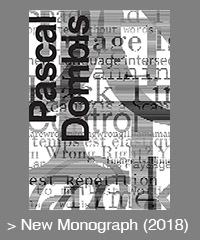 Statement / Interviews
Interview by Henri-François Debailleux (2018)
Pascal Dombis notes on "Meta-Google" (2017)
Pascal Dombis statement "Irrational environments" (2004)
Interview realized for "Irrationnal Geometrics" at Galerie Municipale, Vitry, France (2008)
Interview realized for a show at Chateau de Linardie, France (2005)
"Going for a Spin" by Glen Watson, HK Gallery Guide, January 2010 > pdf
Essays
Didier Girard is an essayist, literary editor and currently Professor of European Literatures at the University Rabelais in Tours.
Technopornographics (2018)
Dominique Moulon is a Paris based historian of art and technology
On Combinations at Work (2017)
Christine Buci-Glucksmann is a Paris based art philosopher.
Le Passage de la Mode (2015)
A New Regime of Images (2012) > pdf
Time spirals: from the immemorial to the ephemeral (2009) > pdf
Kay Heymer is the Head of Modern Art of Düsseldorf Stiftung Museum Kunstpalast.
Pascal Dombis's Eurasia (2012) > pdf
Pascal Dombis's Eurasia (2012, in german) > pdf
Giancarlo Pagliasso is a Turin based italian curator, art critic and theorist.
Pascal Dombis's Gott ist Tot (2011)
Il Gott ist Tot di Pascal Dombis (in italian, 2011)
Patrick Amine is a Paris based curator, journalist and writer.
Towards an Active Perception of Things (2011)
Henri-François Debailleux is a Paris based art critic.
Frank Popper is Professor Emeritus of Aesthetics and the Science of Art at the University of Paris VIII. He is the author of Origins and Development of Kinetic Art, Art of the Electronic Age and other influential works on art and technology.
From Technological to Virtual Art (extract), Frank Popper (2007)
Joseph Nechvatal is a New York and Paris based artist and art theoretician.
The Curvaceous Computational Paintings of Pascal Dombis (2002)
Blackhawk is a New York based critic and theorist involved with new media and digital art practice.